Categories
Categories
Brands
Brands
Infrared Shield for Raspberry Pi
Product Description
This shield addes the IR transceiver to Raspberry Pi.
Specifications:
1. Infrared Receiver:
Frequency: 38KHz
Receiving distance: 18-20m
Receiving angle: +/- 45 degree
2. Infrared Transmitter:
Wavelength: 940nm
Transmitting distance: 7-8m
3. Support dual infrared transmitter LEDs:
It requires user to solder the infrared LED D2, and disconnet the solder point SJ1.
4. Support LIRC software
5. Support XBMC. Users can use the infrared functions under XBMC.
6. Support dual GPIO buttons, users can configure the functions of these two buttons.
The pin layout: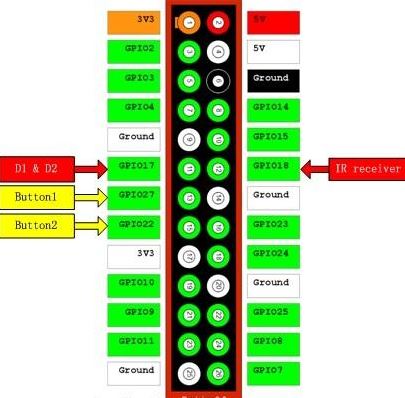 Download:
Product Reviews
Find Similar Products by Category
Customers also viewed